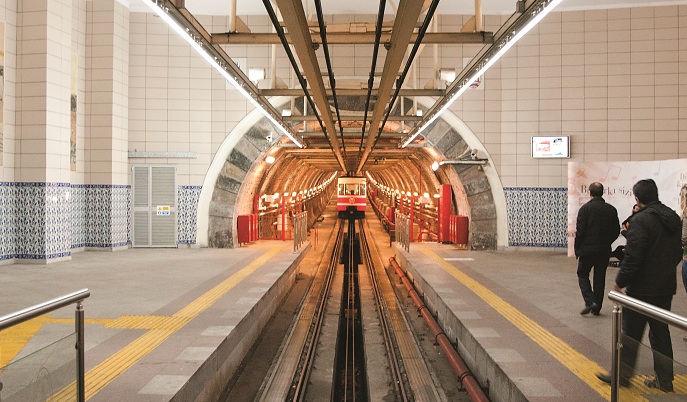 Tunnel
Story of the Tünel, the second oldest subway in the world after London Underground,  story begins with entrepreneurship of French engineer Eugene Henri Gavand. He observed human traffic going back and forth between Galata which was center of social life  and Pera where  heart of trade and banking used to beat and considered an alternative way to Yüksekkaldırım and Galip Dede street. He went to Ottoman Sultan Abdul Aziz Khan for permission to his project which building funicular railway to connect two centers. Project was decided to be BOT( build-operate-transfer) model, along 42 years. Gavand obtained the privilege on 10 June, 1869. 
Tunnel construction works started on June 30, 1871. On July, 1872 British company " The Metropolitan Railway of Constantinople to the Galata Pera" was registered. On December 5, 1874 the construction was completed and started carrying people on January 17, 1875, Local and foreign guests attended to a spectacular grand ceremony.
Initial construction cost was 180 thousand Ottoman Lira. Energy supply was provided with  two-150 horsepower -steam-power plants.  Wagons were lit up with gas lamps due to fact that electricity was not available at the time.
The company passed to the Ottoman nationality in 1911, and took the title of  " "Dersaadet Mülhakatından Galata ve Beyoğlu Beyninde Tahtel'arz Demiryolu"  on march 1, 1939 Tünel  and its establishment purchased and nationalized by the government. It is handed to Directorate General of  Istanbul Electric Tram and Tunnel Enterprises established with the Law No: 3645
During the Second World War, Tunnel had to close its doors for three and a half months due to some material shortage. Tünel was renovated by French Company  "Eletctro Enterprise   " cost 33 million TL and took its present form. Project of Electrification started in 1968 and Tünel reopened on November  2, 1971. Tünel. 350 Horse powered system has distance of 573 meter, has two wagon, 16 meter each, carrying 170. Single trip takes 90 seconds Being indispensable of Ottoman period and early years of Republic, Tünel connects Karaköy and Beyoğlu everyday offering the most enjoyable and intimate journey to its passanger.
​